Margin Trading
Margin trading/short-selling is available for experienced investors only. Please contact [email protected] to be classified as a experienced investor to be able to margin-trade/short sell.
What trading pairs currently support short margin trading?
BTC/EURS
ETH/EURS
BTC/USD
ETH/USD
Where can a client find these instruments?
All trading pairs can be found under Margin products, please refer to the screen grab on the right.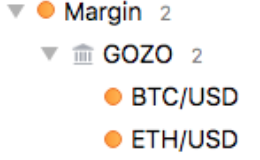 What is the current margin allowance on short selling?
Current margin allowance is 1:2. If margin utilization goes beyond 100% Gozo.pro trade desk will do a partial closing to bring margin utilization below 100%. Cost for forced margin liquidation is 90EUR.
What are the commissions and fees for margin trading BTC or ETH?
Currently, the standard commission applies of 0.25% (same as for other trades on Gozo.pro). No overnight fees. However, Gozo.pro holds the right to amend commissions at any point if deemed necessary.
How can I start margin trading?
Select margin trading instrument (BTC or ETH).
Input the quantity of ETH or BTC you would like to buy (Keep in mind that maximum margin trading allowance is 1:2)
Insert limit price.
Press BUY.
How can I close my open margin position?
Select instrument that you have opened a margin position.
Input the quantity of ETH or BTC that you would like to sell.
Insert limit price.
Press SELL.